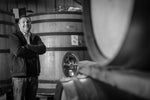 What's the story? Tell us about your journey into the world of wine.
It started during my university course when I was studying geology. I became interested in terroirs through landscape and the nature of soils, and so became interested in wine. After that I applied to do the Diplome National d'Enologue in Montpellier and during my vinification studies in the Roussillon, I realised that I was very interested in vinification and wine production.
 
Which wine sparked your love of the grape?
I don't remember! Probably one we drank on a Sunday, or at birthdays or celebrations. Medoc, St Emilion, Loir Reds, Coteaux du Layon, Champagne and rare Burgundy.
 
But today, I would definitely say Vermentino. It's an exceptional variety that can make a range of wines, from fresh and lively to more complex, rich wines where the expression of terroirs makes itself more obvious.  It is a bit like Chenin from the Loire Valley in its versatility.
 
What makes your wines unique? What's your wine making signature?
For me, the best wine maker isn't the one who makes the best wine but the one most able to express the potential of a harvest.  I do my best to maximise the potential of the grapes I have available. You have to be particular about the work done in the vineyards, the most essential thing in the final quality of your wines. The transition to organic is a challenge that we have taken on and gives a deeper expression of terroirs.
 
What are we eating with your wines?
Our wines match well with almost all French gastronomy, but not just that. The Muscats are excellent aperitif wines but also with food. The reds marry perfectly with grilled and roast meats. The whites and rosé are ideal aperitifs or with seafood and fish. Two special mentions are the match between the whites with cheese and rosé with Asian cuisine.
 
Who are we with, what's the occasion? Set the scene!
With family, at the end of winter by the sea, a white wine chilled in the sea with freshly caught sea urchins.
 
Who inspired/inspires you most in wine world?
Not one person in particular but rather a family of people in the profession. Those true to their convictions who follow their own path, with quality as their leitmotif. The job is hard and you are always learning.
 
Best advice you've been given?
Respect for terroir of course and respect for the work of the men and women who contribute to make the wine that ties us all together.
 
What's your proudest achievement in wine life?
Persistence and learning through experience how to make good wine consistently each year, despite differing vintage conditions, especially climate changes over recent decades.
 
Most memorable wine you've experienced that's not one of your own!?
Château Yquem 1961, drunk in 1990. Even if I'd not known what it was I would have guessed, as it had everything I had been told about it. The sensations I felt were immense and indescribable.
 
And a Premier Cotes de Bordeaux bought in bulk from a vigneron. Shared with my family over steak and green beans from the garden.
 
If you were a wine, what would you be?!
Without doubt a wine that does not exist yet but from the Mediterranean, at altitude and from grapes that in part see the sun at sunrise and part see it as sunset.  Definitely a white wine. 
 
What's your advice for ordering wine in a restaurant?
Allow yourself to be advised by the sommelier if there is one. Experiment with wines by the glass as they are usually good value for money and help you learn and discover new wines. 
 
What are your local tips for secret spots for good wine and for food in Corsica?
La Corniche, in San Martino di Lota. It's great value with a good wine cellar worthy of a great restaurant. 
La Pain de Sucre, near Calvi. It has a wonderful view and menu. 
U Paradisu, in Macinaggio. A beach side restaurant and, as its name suggests, it's paradise. 
LA Mise au Verre, in Bastia. A wine bar with all the charm of the old port of Bastia.