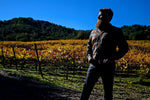 What's the story..? Tell us more about your journey into the world of wine:
what was the moment or inspiration that led you to winemaking?
I was a bit of a vagabond during and after college. At 25, after stints in Alaska, Ecuador, the island of Nantucket and on the rivers of eastern Utah, I decided I wanted to do a little surfing. I flipped my Bronco outside of Green River, Utah, bought a 71 VW bus off a friend and drove it across the desert to Santa Cruz, where I promptly ran out of money. The first full time job I got was at the Bonny Doon Vineyard, and from there it developed into a calling.
Which wine sparked your love of the grape?
I don't come at it from that angle. I find places inspiring, wine is a reason to be in those places.
What makes your wines unique? What's your winemaking signature/core ethos?
We focus on a less understood region at a very exciting time in its development. There aren't many 'hard truths' about wines around here, so we get to help define the region. Working with the natural attributes of the region (extremely temperate, very long growing season, very light soils with lots of granitic and calcareous based soil types, lots of onshore flows and fog), our wines are tied together by acids from the cool nights and moderate days, beautiful aromatics, a slight salinity, and a lightness about the wines, not in the sense of a lack of density, but almost like the way the sun shimmers through the sea air on the coast.
Loving the labels... tell us more about your style, design and the brand 'personality'...
Labels should be a window into the wine in the bottle. We want our wines to have an accessibility, a friendliness, underlay by proper structure and sense of place. We want our labels to show that attention to detail without grasping for identity.
What are we eating with your wines? 
I enjoy our Viognier with Dungeness Crab. It comes in fresh off the boats to the docks in Monterey, and often times you can buy it freshly cooked, cracked and cleaned. It gets sweet in the cold water and is a special California winter treat.
The other thing Monterey County really excels at is vegetables. The Salinas Valley is referred to as the 'Salad Bowl' because of all the leafy greens it produces. In the fall, I really enjoy a salad built on locally grown butter lettuce, fuyu persimmons and pomegranate seeds from our friend's tree (who lives in a slightly warmer location), candied walnuts, a light bleu cheese and a meyer lemon vinaigrette from lemons off the tree in our front patio. Our Jack's Hill Chardonnay complements it well.
Who are we with, what's the occasion? Set the scene!
We make wines for your moments, not just special celebrations, but a quiet evening at home with your partner, or a long overdue conversation with a dear friend. Like a good jazz record, we want to make wines that provide great background if you're otherwise enthralled, but can be enthralling if you take the time.
Who inspired/inspires you most in wine world?
I'm lucky enough to have come up in the Santa Cruz Mountains, where I had the opportunity to learn the craft from many long time winemakers. Jeff Emery, now the owner of Santa Cruz Mountain Vineyards, was a major mentor. Paul Draper, Jeff Patterson and Marty Mathis all had dramatic influence on my vision of the winemaking world. Of my contemporaries, Tegan Passalacqua continually inspires me with his love of the history, the craft and of California.
Best advice you've been given?
When I had been working for a few years in the wine business, and big, oaky score chasing wines were all the rage. I told Jeff Emery he should think about adapting his style. He told me where I could put that idea, and gave me insight into how trends distort the truth of wine, and what it is to chase that truth.
What's your proudest achievement in wine life?
I'm proud to be able to take care of my family as an independent craftsman.
Most memorable wine you've experienced that's not one of your own?
1979 Santa Cruz Mountain Vineyards Bates Ranch Cabernet Sauvignon in 2009. It showed me what wine could be locally, and that what was 'known' about the region was not all that was.
If you were a wine, what would you be?
Dusty, forgotten in the corner of someone's cellar.
What's your advice for ordering wine in a restaurant?
As with anything in life, if you don't know, ask somebody who does. Sommeliers are on the floor for a reason.
What are you drinking when it's not wine?
Water. You gotta stay hydrated.
What wines getting your attention/ones to watch? Hot tips?
I don't know if it's a hot tip, but I've found the wines of Scott Shultz at Jolie-Laide impressive over the last few vintages for their seamless construction. Caitlin Quinn, a long time friend and the assistant winemaker at Arnot-Roberts, is just releasing her own project None Such. I expect big things from her. And Noah Dorrance at Reeve is doing great things.
Where are your locals? Let us in on the secret spots for wine and for food in the Monterey area?
In Carmel, La Balena does great Sicilian cuisine, Cultura does great Oaxacan, which is vogue right now in California. Ocean Sushi Deli in Monterey is the most requested in our family. In Salinas, El Charrito is a go to spot, and the Guitierrez Drive-In is a temple to carnitas, which don't receive near enough worship.
If there's time outside of wine, what are you doing?
My first priority is my family, but I make time to chase waves and play with the band. If I can do those four things (work, family, surfing and music), I'm content.