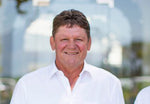 What's the story..? Tell us more about your journey into the world of wine: what was the moment or inspiration that led you to winemaking?
My dad farmed with wine grapes and I grew up in a wine environment. I did some work as a cellar hand and winemaking really chose me!
Which wine sparked your love of the grape?
Chenin Blanc has been the work horse of the South African wine industry for a long time. It is such a reliable grape, so versatile. And today, because of the diversity of our terroir, there are so many exciting Chenin Blancs!
What makes your wines unique? What's your wine making core ethos?
Terroir and especially the diversity of terroir we get in South Africa. I get very excited about unique wines reflecting their origin. And then I think we can really produce some of the best Rhône blends!
What's in the name? Tell us more about the back-story to the brand name…
La Motte is one of the historic wine estates in the Franschhoek Valley. In 1695, a piece of land was granted to German immigrant, Hans Hendrik Hattingh and in 1709 the land was purchased by La Motte's first French Huguenot owner Pierre Joubert. The name La Motte has its origin from a little village in Provence – La Motte d'Aigues. Viticulture on La Motte was established in 1752 with the planting of 4,000 vines by Huguenot descendant Gabriël du Toit. Dr. Anton Rupert purchased the property in 1970 and introduced a major development, restoration and conservation programme, replanting vineyards with noble varieties and implementing the latest viticultural practices. This reinvented La Motte into the leading global wine producer and sought-after tourist destination it is today.
Loving the labels... tell us more about your style, design and the brand 'personality'...
La Motte is all about elegance – in the style of the wine as well as the design of the label. The brand associations are history, heritage, art and culture and we hope our wines bring that to the table.
What are we eating with your wines?
The Pierneef Sauvignon Blanc is one of my favourite white wines. It matures beautifully and its complexity makes it an exceptional food partner. I enjoy seafood with the Pierneef. (Try our recipe for a grilled seafood salad: https://www.la-motte.com/blogs/news/grilled-cape-seafood-with-fennel-and-lime-salad ).
And then the Pierneef Syrah Viognier. This wine is so reliable, it performs exceptionally well, vintage after vintage and I am always proud to open a bottle. Syrah is already a versatile food wine and then with the Viognier, this wine really lends itself to red meat in all its shapes and forms and works very well with our South African aromatic curries.
Who are we with, what's the occasion? Set the scene! 
Friday night after a rough week. My close family and sometimes a few friends. The South African tradition is to braai and my Friday night tradition is lamb chops on the open fire. I enjoy a refreshing white while cooking and with the lamb, the Pierneef Syrah Viognier of course!
The music question - what's the soundtrack of La Motte?
Hanneli has introduced me to the beauty that is classical music. We share our love for music on La Motte with classical music in all the tourist areas and we host monthly classical music concerts in the historic cellar on the estate. There is nothing better to calm me when the pace gets a bit hectic. (Hanneli used to be one of South Africa's leading mezzo sopranos and used to perform under her maiden name, Hanneli Rupert)
Who inspired/inspires you most in wine world?
There is much inspiration in the world – from winemakers to chefs to passionate conservationists and brilliant viticulturists. Robert Mondavi was the first to realise that wine is about more than the product, that is about emotion and creating an experience around the wine. And then Robert Joseph. In the wine industry we so often look at history, but he is a trend-watcher and I love his insight and interpretation.
Best advice you've been given?
My father in law, Dr Anton Rupert was concerned about the fact that we don't think enough. He used to say, if you don't have the answer, just sit in quiet and think. I have had much opportunity to use his advice!
What's your proudest achievement in wine life?
I recently hit my first hole in one in golf and, at the moment, this overshadows all other achievements!
Most memorable wine you've experienced that's not your own!?
Mouton Rothschild 1986 – Hanneli and I shared a magnum with friends on a trip to France. It was magical.  I also am a big fan of Sassicaia.
If you were a wine, what would you be?!
A red blend – with many varieties. Perhaps a Châteauneuf-du-Pape!
What's your advice for ordering wine in a restaurant?
Order what you enjoy! If you are there to have a good time, don't worry about what other people think. But, if you like to be a bit daring, go with the sommelier or menu suggestion, you might just experience and enjoy something new. Don't be embarrassed to ask – chances are the rest of the table are more intimidated by the wine list than you are.
What are you drinking when it's not wine?
Nowadays we are spoilt by a lovely variety of South Africa's craft gins and tonics!
What wines are getting your attention or 'ones to watch'? Hot tips?
Varieties that are not mainstream. That do not have to be too serious or live up to competitions and ratings. They are often very exciting and easy to enjoy. In South Africa at the moment, I get that from Cinsaut.
Your locals: let us in on the secret spots for wine and for food in your area and not to miss in Franschhoek...
Of course, I love eating at La Motte's Pierneef à La Motte Restaurant where Chef Eric Bulpitt brings a modern interpretation to traditional South African cuisine. For a more informal gettogether, the Leopard's Leap Rotisserie is a go-to. Reuben's Restaurant is always a Franschhoek favourite. Chef Reuben Riffel is a Franschhoek local and he is so passionate about the community. I love his food and the personality he brings to the restaurant – nothing pretencious about it!
If there's time outside of wine, what are you doing?
I make time to play golf – it is how I relax - and I like to cycle.